BARLOW AMUSEMENT & MUSIC CO., INC.

as featured in

SOUTHWEST GEORGIA LIVING MAGAZINE

March/April 2014 Edition

​

​

Nickel in the Jukebox​They've gotta vintage Victrola 1951,full of my favorite records that I grew up on.They've got 'ole Hank and Lefty; and there's

B 24;

"Set 'em up Joe" and "Walkin' the Floor Over You".
​
Many a music lover has found themselves in an all-night diner, in the wee hours of the morning after a night on the town, pumping money into the jukebox. Whether at the local teen club, a juke joint, diner or beach hangout, the jukebox has rocked the music world and soothed the souls of those in search of a song, a beer, a friendly game of pool or a respite from unrequited love.

Jukeboxes, called "automatic coin-operated phonographs" when manufacturing initially began, first appeared in the 1930's and originated right here in the southern United States. Most popular in the 1940's and 50's, the machines across Southwest Georgia and beyond were integral to the landscape of bars, clubs, and restaurants such as James' Playhouse, Hole In the Wall, Ole Times, Foggy Bottom and Wayback. Some say the jukebox got its name from the slang for "jook" or dancing. Others claim it was a deviant of the word "jute", referring to the jute joints or venues for jute picking laborers to dance and socialize.

With the birth of rock 'n roll in the 50's and 60's, American Bandstand and the dance craze, tunes prompted shy youth in penny loafers and saddle oxfords to shuffle across the floor to soulful tunes or gyrate to faster beats. Jukeboxes in local armories and back road honky tonks had partygoers doing the stroll, swim, jerk, twist or mashed potato to the 45s of James Brown, Bill Haley and the Comets, and Chubby Checker.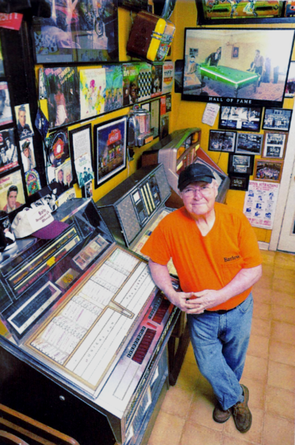 Albany's Raymond Barlow, owner of Barlow Amusement and Music, has put the tunes in jukeboxes in Southwest Georgia for decades. Frank Cannon and his son had a jukebox route when Barlow was a student at Albany High School. After graduating and working other jobs, Barlow began making service calls for Cannon Music Company and eventually purchased the route in 1981. Barlow, now semi-retired, and his son Raymond Jr. - or Bubba - still service jukeboxes all over the area.
"They called me Cannon at first and the Rock-Ola Man," says Barlow. "We had jukeboxes and pool tables and added dart leagues at one time." Barlow can still name some of the old bars where jukeboxes thumped in low lights - W.M. Halls, The Palace, Rochester's, Blue Box, Odell's, The Black Cat - and the brightly lit truck stops and bus stations where many a traveler deposited a nickel or two. "I had two speeding tickets in one day," says Barlow. "I ran the roads a lot during those days, and I took Bubba with me. He's been along for the ride since he was in diapers, and by the time he was 18, he'd been in every bar in Southwest Georgia."
Today, Barlow's home includes a jukebox room where musical rewinds abound. A corner devoted to Elvis has 51 hit songs on jacketed 45s, including Devil in Disguise, Love Me Tender and Are You Lonesome Tonight?
Barlow could give music history lessons. "In the last two or three years, all the jukeboxes have changed to internet play instead of the 45s, which were easily scratched. About 12 years ago, all the music was on discs, requiring less servicing but it was more costly; the music and the machines."
Barlow adds that the last 45 record was made about five years ago, and the last country song distributed on a 45 was Jason Aldean's "Big Green Tractor". He noted that the new internet jukeboxes now hold 2,000 songs, are set up by computer and metered to percentages based on the most popular plays.
The coins required to play everyone's favorite songs were chronicled in the lyrics of more than one tune. There was Buck Owens' "Put Another Quarter in the Jukebox", and George Jones' "Don't Stop the Music", that included the lyrics, "I spent my last dime, but I just gotta hear that song one more time…" Conway Twitty sang about putting a nickel in the jukebox in "Truck Drivin' Man", and Joan Jett directed listeners to "put another dime in the jukebox, baby."
From a mere five cents at a time, to five dollars in quarters, the pay to play has now evolved into credit cards, debit cards and paper money. The new machines don't even take coins. Barlow has a jar with bent coins and other items that have hung up the jukeboxes and held up the music.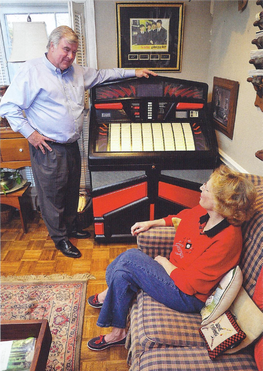 Of course, Barlow isn't alone in his love of the brightly lit boxes. There has been a jukebox and phonograph in Joe and Penny Durham's home in Dawson for over three decades. A surprise present from Joe, the current red and black Rowe AMI jukebox's title strips include tunes from the 40's to the 80's by artists such as Glenn Miller, Simon and Garfunkel, Jackie Wilson, Gene Chandler and Jerry Lee Lewis.
"I always wanted a jukebox," says Penny. "Everybody that loves music should get to pick out 100 records to play, and we are glad we have Raymond and his son Bubba to keep it playing. Our grand-boys love to push every button."
The Durhams bought the new jukebox about six months ago to replace the 1980's model, says Joe. "The old one had bulbs like a tube radio and required a lot more servicing."
And that's right up Bubba Barlow's alley. "I loved riding with my dad. When that truck cranked up, I wanted to be in it," says the younger Barlow. His dad taught him everything, and by the time Bubba was 12, other employees of the company were driving him to the service calls so he could do the work. At 16, he was on the weekend rotation and worked every day after school, eventually taking over the business about 14 years ago. "I like the music, but I love my customers and this business," says Bubba. "Mr. Durham will call and tell me he's trying to keep his wife happy, and I get on the road."
Before county roads were paved, back roads held the hidden treasures called honky tonks, juke joints or speakeasies, with sawdust floors, dim lights and a jukebox in the corner. Many diners offered personal-sized tabletop jukeboxes that patrons could enjoy along with their breakfast, lunch or dinner. That era was more about eating oysters, burger and fries, and maybe a pickled egg or two.
And about the music. Well, whether you're on a bar stool or in a booth, enjoying a drink or having a friendly conversation, it's just hard to imagine any of that without a song on the jukebox playing in the background.
---